User Guide to eBanking for Clients
Connecting to the EFG eBanking website
Get direct access to your money 24/7
To be in full control of your money, you need access to it whenever you want, wherever you are. Which is why we're here to help you connect to your account online.
1. Access to the eBanking website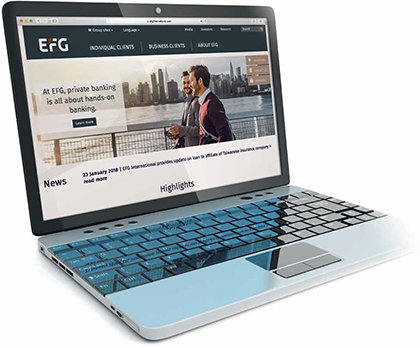 EFG eBanking can be accessed from the EFG International website portal by clicking on the "eBanking" button available at the right of your screen.
Alternatively, you can connect by navigating directly to the secure eBanking address:
To access eBanking, a combination of a username, password and code generated by the token (soft or hard) needs to be submitted.
Your credentials can be provided by the bank only.
NB: eBanking website is available on computers and tablets only.
Discover more
From mobile banking to secure live chat, find out how EFG can help you achieve your financial goals today.